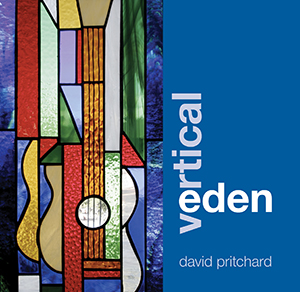 With the release of Vertical Eden, Los Angeles based acoustic guitarist/composer David Pritchard extends  his exploration of original music for multiple acoustic guitars, also integrating violin, bass, and percussion into the music. The result is a hypnotic, mesmerizing musical journey.
On some tracks, David has overdubbed all the acoustic guitar parts; on others he is joined by guitarists Ken Rosser and Kevin Tiernan, both members of his ensemble.  As a unit, they weave a gentle yet potent energy into David's compositions. Some of the tracks are further enhanced by the participation of violinist Harry Scorzo, percussionist Christopher Garcia, and bassist Erik Kertes.
Vertical Eden, the title track, features a recurring, plaintive melody supported by a tapestry of multiple guitars.  Bright Depths Revisited is a reworking of one of David's jazz compositions from his Inner City Record days and features solos by Pritchard, Ken Rosser, and Erik Kertes.  Deliver Us combines elements of bluegrass and Indian music in a collage of fast lines and complex arpeggios. Garden of Time and Winged Footprints are two contrasting pieces for violins and guitars: Garden of Time is contrapuntal and pulse driven while Winged Footprints is more lyrical with long floating melodic lines supported by complex multi-metered layers of acoustic guitars. Harry plays two violin parts on both tracks.  There are  two pieces for classical guitar, the guitar quartet Ark Sakura and the solo piece Clockwork 3. The Absence of Presence,  and  Cathedrals in the Rain all feature the wide expansive, cinematic feel characteristic of Pritchard's music.
From "Minor7th.com" Sept./Oct. 2008
"From cinematic to avant-garde and from new age to minimalism, these descriptions only scratch the surface in describing Pritchard's own inimitable compositions. Vertical Eden is a true sonic masterpiece of multi-tracked guitar instrumentals and absolutely essential for all listeners of contemporary instrumental music."
From "Audiophile Audition" Oct. 2010
"The sound mix of this CD is pristine. The multi-faceted instrumentation is presented with clarity and cohesion. Never overindulgent, the recurrent sonic narratives retain their authenticity. Vertical Eden is transformative."
Now available on CD, David's previous releases on Inner City records,
City Dreams and Lightyear.
innercityjazz.com
Listen: Vertical Eden sample