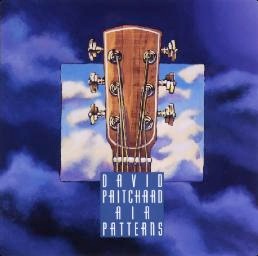 In "Air Patterns," guitarist David Pritchard creates a mosaic of musical landscapes accomplished through the intricate layering of acoustic guitar tracks. Serving as interludes between these textured pieces for multiple guitars are orignal solo compositions for classical guitar.
David Pritchard began his career as a jazz guitarist with the Gary Burton Quartet; he also co-founded the pioneer fusion group "Contraband" which recorded for Epic Records. Pritchard's two LP's for Inner City Records, "Lightyear" and "City Dreams," featured jazz greats Freddie Hubbard and Patrice Rushen; both LP's received glowing praise in such publications as Guitar Player and Downbeat magazine. Pritchard was profiled in Cashbox magazine as a "new face to watch."
He began concentrating more on acoustic and classical guitar performance and, in so doing, began to develop a new musical direction. In an early acoustic appearance opposite guitarist Larry Coryell, Los Angeles Herald-Examiner critic Dave Weiss described Pritchard's solo set as ". . . an impressionistic oasis. His is an original harmonic conception. . ."
"Air Patterns" opens with "Inward Bound," a piece characterized by the ethereal sounds of exotically tuned acoustic guitars darting in and out of delicate rhythmic patterns. Other tracks include "Mercury Delayed," which subtly evokes country roots and melody, "Each to His Own" which features two acoustic guitars 'deuling' vibrantly in different meters; and "Long Goodbyes," a poigant piece in which musical repetitions evoke emotional responses of yearning and nostalgia. With "A Stop Along the Coast," the music opens up a wide visual panorama, while the title track is composed of trance-like repetitive chord arpeggios which evolve into difeerent harmonies like a slowly totating kaleidoscope. Three solo classical guitar pieces, "Clockwork #1," "Clockwork #2," and "A Pale View" offset the multi-layered acoustic guitar pieces with an austere and elegant impressionism.
In "Air Patterns," Pritchard has moved his musical course out of the jazz realm and into a new acoustic musical environemnt of shifting harmonic landscapes propelled by a subtle rhythmic pulse, punctuated by haunting metric and melodic patterns. "Air Patterns is the sunthesis of these musical explorations.