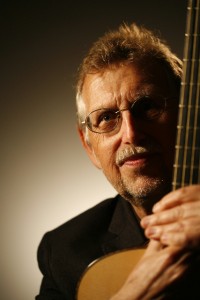 David Pritchard began his professional career as a teenager when he played with the Gary Burton Quartet on their 1969 European tour, appearing on BBC, Jazz Expo '69, French and Italian TV networks, as well as numerous concert halls and clubs. At that time Melody Maker said, "he (Pritchard) compliments Burton's sound perfectly…"
Returning to Los Angeles, Pritchard formed the jazz/rock group "Contraband," with pianist Pete Robinson. They recorded an LP, "Time and Space," for Epic Records, and in a four star review Downbeat wrote, "With Weather Report, Miles Davis, and others, Contraband makes music of eclectic inspiration, multi-dimensional in scope, striking of passion."
In the early eighties, Pritchard decided to focus on his own musical direction. He was signed by Inner City Records and recorded two LP's, the first of which, "Lightyear," received a four star Downbeat review and was described by the Boulder Colorado Jazz Review as "…a marvelous example of where modern jazz guitar is heading."
His second album for Inner City Records was "City Dreams" which featured guest artists Freddie Hubbard and Patrice Rushen. For this album, Pritchard was profiled in both Cashbox Magazine and Downbeat.
In recent years, Pritchard has put most of his emphasis on acoustic and classical guitars as well as shifting his writing and playing style away from jazz and into a more classically influenced style. In an appearance at McCabe's in Santa Monica with guitarist Larry Coryell, Los Angeles Herald Examiner critic Dave Weiss described Pritchard's solo acoustic set as "…an impressionistic oasis. His is an original harmonic conception and pleasingly lyrical to boot."
In 1990, David co-formed Molecular Music Company whose first release was "Air Patterns"; this compact disc features David performing original music for multiple acoustic guitars as well as solo classical guitar. It was described by Guitar Player magazine as "…beautifully played and recorded." The CD has been featured prominently on two syndicated public radio programs: WNYC's "New Sounds", (N.P.R) and "Echoes," (A.P.R.).
To further his explorations into the realm of acoustic music Pritchard formed an acoustic guitar quartet. Activities have included radio broadcasts for KCRW, KPFK as well as an "Echoes" Living Room Concert. Performances have also taken place at USC, Art Center College of Design, Cal Arts, Pasadena City College, and Luna Park.
Pritchard is also the author of "Music for the Contemporary Guitarist" published in 1987 by Belwin Mills/ Columbia Pictures Publications. His "Four Clockworks" for solo classical guitar was published in 1994 by Columbia Music/Theodore Presser. He is a 1994 Arts Fellowship recipient from the city of Pasadena, Calif. and a 1995 recipient of a Special Award from the American Society of Composers, Authors, and Publishers.